Everything You Need to Know About Planning an Outdoor Kitchen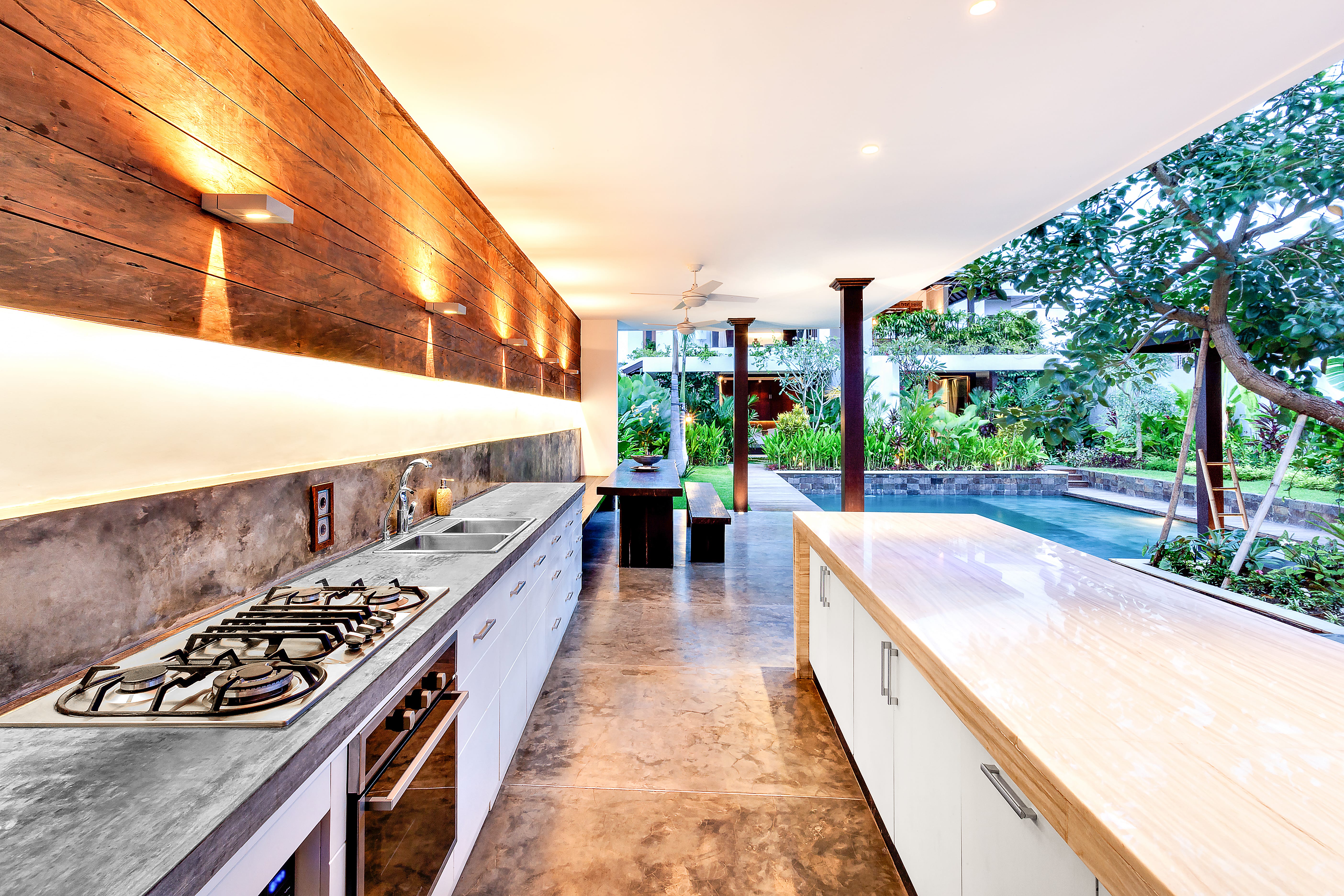 How to plan, design and execute an outdoor kitchen without blowing your budget. 
It's safe to say as an Australian, there is no better way to enjoy the weekend than to cap the week off with a couple of friends over for a Sunday arvo BBQ and a few cheeky stubbies.
But what do you do when Winter time comes around? You can't exactly have a BBQ in the rain.
Recent trends have shown more and more Australians are opting for an indoor-outdoor entertainment area such as an alfresco with an outdoor kitchen to entertain all year round.
Cordon off the area with some outdoor blinds and bob's ya uncle.
You have an outdoor kitchen/entertainment area that's cool in summer and warm & dry in winter.
If you're thinking of building an outdoor kitchen here's everything you need to know before you get started.
Planning and design
Before you begin choosing how you want your outdoor kitchen to look, it's important to consider what you're going to be preparing, who will you be preparing for, and when will the outdoor kitchen be used.
This is to make sure you don't spend on unnecessary expensive appliances that you may not use very often, like a pizza oven.
What are you cooking?
Will this be a complete outdoor kitchen or just an undercover entertainment area with a BBQ? Based on what you're going to be preparing and cooking, you will need to consider appliances and utilities that you would need outside.
This can include an oven, stove, fridge and sink, as the last thing you want is to be running back and forth from the indoor kitchen, unless you design your outdoor kitchen to sit right outside your indoor kitchen window.
Who are you cooking for?
The size, layout and furnishings will be dependent on how many you plan to be entertaining for. Will it be a large dining area? Are you going to be doing a lot of cooking and preparing outside?
Kitchen/bar styles are a great way for you and guests to communicate while you prep and cook but can also divide the room. Outdoor furniture that can be easily packed away after a party on top of your more permanent seats will prove to be a life saver.
When will you be using your outdoor kitchen?
What time of day are you going to be using your outdoor kitchen? If it's night and day, you will need to consider what kind of lighting will be used at night. You will also need to consider drainage how it's going to be covered for the rainy season.
Keep reading below as we break down each section into more detail.
How much does an outdoor kitchen cost?
It's best to start with: what is your budget? Knowing your budget is the key to building a successful outdoor kitchen. After going through the planning and design phase, do you have enough to build it exactly the way you'd like it? Most of your expenses will depend on the quality of your appliances, materials, and labour.
Just remember that running water and electricity will require the assistance of a fully qualified and licensed plumber and electrician, as it is illegal to conduct any sort of plumbing/electrical work in WA without a license. Hiring these trades will significantly contribute to your expenses.
If you plan on using your outdoor kitchen all year round you will need to weather-proof it with high-quality materials. The last thing you'd want is the roof collapsing because it didn't have sufficient drainage or wasn't waterproof.
Your budget could range anywhere between a couple of thousand; if you are updating an existing outdoor kitchen, all the way to $50,000 for a brand new outdoor-indoor entertainment area.
One key point to take away is that you shouldn't max out your budget on the build. Instead, allow a little breathing room for any mistakes or hiccups along the way so that you aren't digging into your savings.
The kitchen location will impact your budget
The location of your kitchen will heavily correlate to your budget and how much you end up spending.
You will need to determine if your kitchen will be outdoors and uncovered or will it provide an indoor entertainment area that can be used all year round. Will it have running electricity and water? Or are you going to be running back and forth between the indoor kitchen.
If your budget is a little tight and your short on space, you may want to consider placing your outdoor kitchen as close as possible to your indoor kitchen window so that things can be passed through with ease.
This is where the planning and design phase comes in handy, as you would've decided on what you're going to cook/prepare, how many people you're entertaining, and how often will you be using the outdoor kitchen area.
How often will you use your outdoor kitchen?
The amount of time spent in your outdoor kitchen will have a direct impact on how much you are going to spend on it. Imagine your indoor kitchen and how much time you and your family spend in it on a day to day basis. Now picture yourself in your outdoor kitchen entertaining guests.
If you plan on entertaining or spending more time cooking and eating outside you can probably justify spending a little more of your budget to ensure your outdoor kitchen comfortable has all the features you need.
This can include the addition of cafe` blinds or zip screens to keep the elements out, comfortable chairs/couches and televisions for entertainment, and portable heaters or fans for comfort.
Cooking appliances and materials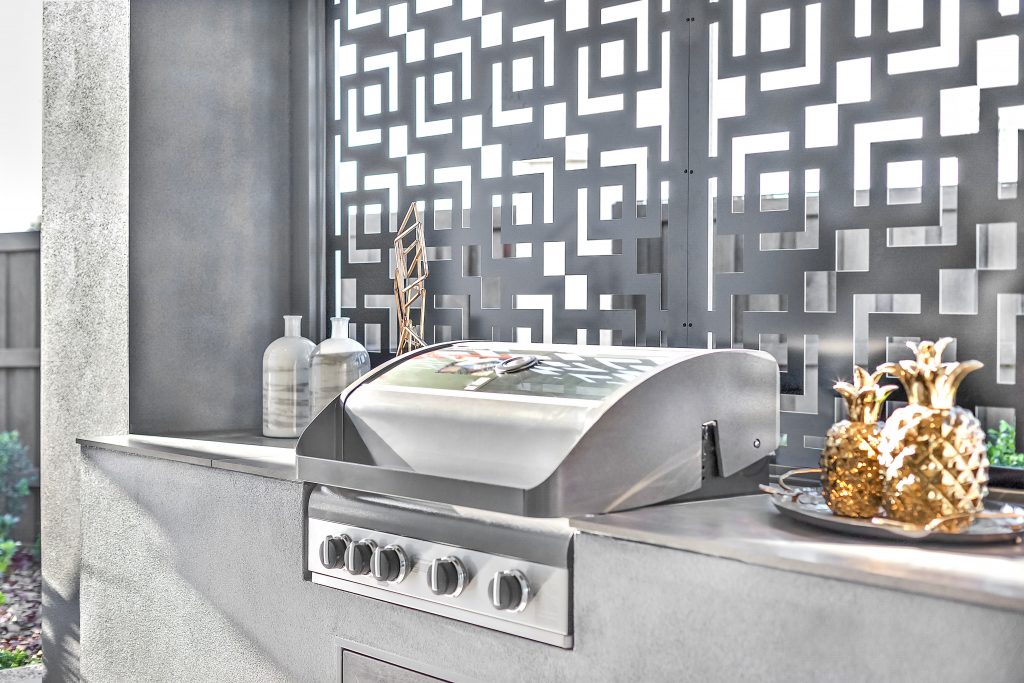 As mentioned in the planning and design phase, what are you cooking? Are you going to have a complete outdoor kitchen with all the bells and whistles or is it simply going to be an undercover BBQ.
It is important to remember that based on your appliances, you will need running electricity, gas or running water to operate them.
In terms of materials, you will need to consider a floor type that is easy to clean and maintain as well as non-slip. The type of material your kitchen benchtop will be, the kind of lighting you plan to use, and weather-proofing with outdoor blinds.
A basic outdoor kitchen can include:

Built in barbeque – $1,500 – $4,400
Sink with cabinet – $100 – $600
Benchtop prices will vary based on material
Special additions can include:

Refrigerator – $600 – $3,000
Woodfire oven – $1,500 – $2,500
Fire pit – $300 – $1,400
Water fountain – $150 – $1200
Bar fridge – $300 – $3,000
All in one outdoor kitchen (includes sink, bench, BBQ, fridge, side burner, cabinetry) – $1000 – $10,000
Materials:
Floor types include liquid limestone, honed/exposed aggregate, concrete, or ceramic tiles
Framework types include standard brick, natural stone, brick veneer, poured concrete, limestone
Benchtop types include granite, natural stone, stainless steel, engineer quartz/stone, laminate
If it is inspiration you need, you can check out these alfresco kitchen trends.
---
Before you plan anything, remember it is illegal to conduct any sort of plumbing work in Western Australia without a license.
Doing so can void warranties and lead to hefty fines. We always recommend contacting fully qualified and licensed professionals to ensure all electrical and plumbing work completed meets Australian standards.
If you're in need of a reliable plumber in Perth, contact Gillies Group.